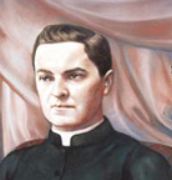 The Knights of Columbus was founded by Venerable Servant of God Father Michael McGivney, a New Haven parish priest, in the basement of St. Mary's Church in 1882. A lay organization to provide fraternal support for Catholic men and their families, he built an infrastructure to provide insurance benefits in times of death and need. The organization provided charitable outreach and care for the financial well being of Catholic families, focusing on the protection of widows and orphans, and on strengthening the faith of its members. It has grown into the world's largest lay Catholic organization, with more than 1.8 million members throughout North and Central America, the Philippines, the Caribbean and Europe. The nearly 15,000 Knights of Columbus councils last year supported a countless number of charitable organizations by donating more th
The organization he created was bound by the ideal of Christopher Columbus bringing Christianity to the New World. On March 29, 1882 the Knights of Columbus was incorporated. Father McGivney's vision for the Order included a simple life insurance program to provide for the widows and orphans of its deceased members, Over time, the Order's financial soundness grew to the point where today, it is one of the most respected and financially sound insurance program in the world.
To read more about Father McGivney and his incredible but short life, go to http://www.fathermcgivney.org/en/index.html.